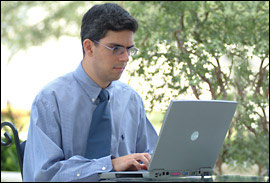 Education
Doctoral degree (Ph.D.) in Computing Technology in Education, Nova Southeastern University, Graduate School of Computer and Information Sciences, 2010
Education Specialist (Ed.S.)

in Computing Technology in Education, Nova Southeastern University, Graduate School of Computer and Information Sciences, 2004
Education Specialist (Ed.S.)

in Educational Computing and Technology, Barry University, Adrian Dominican School of Education, 2000
Master of Business Administration (M.B.A.)

with a concentration in Finance, Barry University, Inez Andreas School of Business, 1996
Bachelor of Science (B.S.) Double major in Computer Science and Mathematics, Barry University, School of Arts and Sciences - Department of Mathematics and Computer Science, 1994
Biography
Prior to his appointment as Director of Partner Campuses Technology (Broward Technology Services and Northern Technology Services) at Florida Atlantic University (FAU), Alberto served as Director of Web Strategy at Lynn University, located in Boca Raton, Florida.
At Lynn, he was responsible for developing and maintaining the comprehensive structure of the university's Web presence, including both its Internet and Intranet (portal) sites. He also served as part of the university's Admissions Marketing Team, where he ensured that the university's Web technology supported the mission of the institution while matching the latest industry standards.
Prior to his appointment at Lynn, Alberto served as Assistant Dean of Information Technology and Director of Instructional Computing Services--as well as the Activity Director of a US Department of Education, Title-III grant--at Barry University's Division of Information Technology in Miami Shores, Florida.
Alberto is also an adjunct professor of computer science at several universities.